First things first. My sincere thanks to all the team members, investors, users and our customers who have helped in this journey.
So this started a long time ago. Ten years to be precise. Doing a startup was not fashionable in those days. Mobile revolution was yet to happen. Some of us spent a good amount of time on 3rd Aug 2007 in our office in Divyasree Chambers running a tail -f on our Apache access logs. Each query that came made us smile or check if we had handled that or not. Code changes were made in real time to handle things.
.
.
.
10 years ahead, Ekta Kapoor serial style….
It is a different world and so are we. Bangalore has more startups than roads. Startup events charge money so that you have to sell your kidney. We have moved from one city to almost 2000 across 5 countries, from English to 10 languages. Team sizes have ranged from 10 to over 500.
This has been a journey where a lot of blood and sweat has been shed. To be very frank, we have not been as successful as we would have wished. We have done our quota of mistakes at all layers of the organization. We missed some buses and we caught some wrong ones. But the fact is that we have survived. In 2007 there were over 50 companies trying to make a business in this domain and very few of them exist now.
We had a choice a few years back to ride the tiger ( we are not talking about the VC fund here ) or get off from it. Either get into the valuation game or downsize ourselves to build a profitable company. We chose the latter. Was it the right choice, we don't know but that is what we have chosen and that is what we are pursuing. Besides AskLaila we have also been successful in creating another business called Zimplify and another B2B twist to our business is also coming up soon.
I wanted to highlight few things in this journey. The glitter of startups has attracted too many people to this startup world. Some think it is a very romantic thing to do but nothing could be further from the truth. What you see in social media and what most of the entrepreneurs go through in their real life are two very different things. Don't just count the bouquets but count the thorns too.
So here we are 10 years young, after our first launch, battle hardened and thick skinned to the core. We might have failed with hundreds of ideas but we still have hundred more ideas to make things work. We are small but profitable and we strive to get bigger and bigger. We still feel local search is an unsolved problem and as Jeff Bezos says, it is still day one.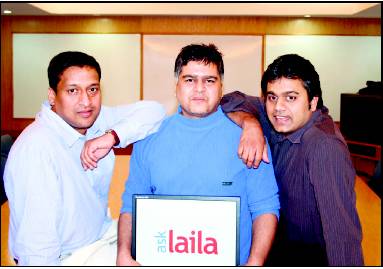 Our TOI coverage 10 years ago. And if you are thinking that I still look the same ( I mean young ), let me thank you for the compliment in advance.